LinkedIn Training for Your Business, College, or Self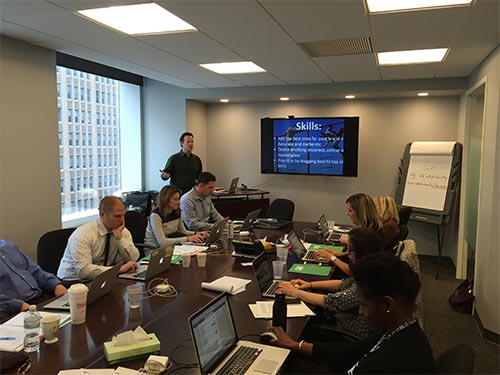 You've heard LinkedIn is one of the best ways to promote your brand and business. You know it's full of people you would like to network with. And you know it's the type of social setting that can accelerate and enhance your business and career.
But how can you stand out in a crowded platform?
You could do some research, spending hours fruitlessly searching for up-to-date information, hoping for the best.
Or you can consider one of our LinkedIn workshops, online courses, or book a consultation.
Post Road Consulting, one of the premier providers of independent LinkedIn training and consulting, can show you exactly how to generate opportunities and network with people in your industry on the social platform used by more than 670 million professionals.
Are you:
Hoping to elevate your employee's online presence and help them to become brand ambassadors and more effectively attract buyers or candidates?
An individual who needs to better position yourself and improve your professional opportunities?
An academic institution who needs help to better equip your students and alumni for professional success?
Post Road Consulting can show you exactly how to stop wasting valuable time and get results on LinkedIn.
Prefer to learn on your own? Post Road Consulting's LinkedIn Personal Best Club program is perfect for anyone who wants to leverage LinkedIn to enhance their personal brand and grow their professional opportunities. The online membership community will not only show you exactly how to optimize your profile and content, but to keep it optimized.
Let's discuss your options! Contact us here or 888-854-3724