LinkedIn Training for Your Business, College, or Self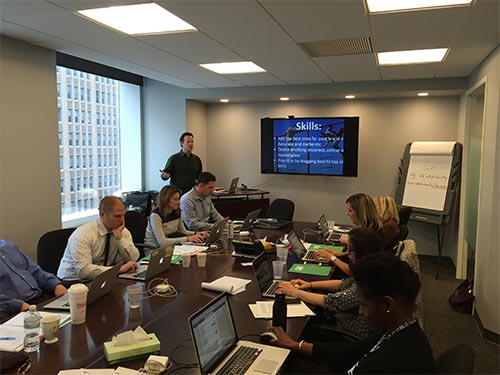 You've heard LinkedIn is one of the best ways to promote your brand and business. You know it's full of people you would like to network with. And you know it's the type of social setting that can accelerate and enhance your business and career.
But how can you stand out in a crowded platform?
You could do some research, spending hours fruitlessly searching for up-to-date information, hoping for the best.
Or you can consider one of our LinkedIn workshops, online courses, or book a consultation.
Post Road Consulting, one of the premier providers of independent LinkedIn training and consulting, can show you exactly how to generate opportunities and network with people in your industry on the social platform used by more than 550 million professionals.
Are you:
Hoping to elevate your employee's online presence and help them to become brand ambassadors and more effectively attract buyers or candidates?
An individual who needs to better position yourself and improve your professional opportunities?
An academic institution who needs help to better equip your students and alumni for professional success?
Post Road Consulting can show you exactly how to stop wasting valuable time and get results on LinkedIn.
Corporate LinkedIn Training
Want to get your employees to be more attractive and appealing online to clients, prospects, and candidates?
Ready to invest in showing your sales team how to improve their social selling?
Want to find the best individuals for your team?
Post Road Consulting can help you ensure that your employee's profiles reflect their personal brands while also incorporating your company brand and leveraging your marketing assets.
Imagine if your employees become online brand ambassadors for your business, attracting new clients and candidates. Imagine if your senior executives had the same confidence online that they do in real life. We help position employees from every level, department or functional area to become brand ambassadors who are able to grow your company's opportunities via LinkedIn.
Our Social Selling and Social Recruiting training will help your corporate sales and HR and talent acquisition departments do their jobs more effectively on LinkedIn.
In our on-site, online, or remote training, we will take your employees through the process of setting up and optimizing profiles; finding and engaging with valuable prospects; and advancing your company's sales and recruiting opportunities via LinkedIn.
LinkedIn Training for Colleges and Universities
What if college and university staff could fully leverage the power of the number one social platform for business leaders?
We think LinkedIn profile optimization combined with alumni networking is one of the best ways to connect job seekers with industry leaders, but many colleges and universities aren't fully equipped, staffed and trained to teach current students and alumni how to fully benefit from LinkedIn. On top of that, LinkedIn keeps changing so it's not an easy task for university staff.
Our on-site, online, or remote training for educational institutions shows users how to improve their LinkedIn fluency and literacy. This includes personal branding, profiles, alumni networking, and job search on LinkedIn for students and alumni. We can also help university administrators to leverage LinkedIn for marketing, branding, and alumni outreach.
Post Road Consulting training and coaching solutions support students, alumni, and university staff.
LinkedIn Training for Small Business, Attorneys, and Individual Professionals
Small businesses, attorneys, consultants, job seekers, and professionals who are not poised to take advantage of the power of LinkedIn are leaving leads, clients, and money on the table. An optimized LinkedIn profile and strategic social network can increase your authority and help you get more referrals.
Post Road Consulting helps with personal and corporate branding. We can also train you and your staff on social selling and social recruiting best practices in our on-site, online, or remote training programs. For individuals, we now offer our very special "LinkedIn Personal Best Club" online program.
Executive Coaching
In person, online, and remote coaching and training is available in both group and private sessions.
Post Road Consulting now offers a program called "LinkedIn Personal Best Club" and "LinkedIn Career Power" which are online programs for individuals who wish to leverage LinkedIn to enhance their personal brand, and to grow their professional opportunities.
Prefer to learn on your own? Post Road Consulting's LinkedIn Personal Best Club program is perfect for anyone who wants to leverage LinkedIn to enhance their personal brand and grow their professional opportunities. The online membership community will not only show you exactly how to optimize your profile and content, but to keep it optimized.
Let's discuss your options! Contact us here or 888-854-3724