LinkedIn for Executives and Experts
Every day we are making impressions with clients, prospects, partners, and colleagues. And now, much of the impression we make is generated online.
Your digital presence matters more than ever. Presenting yourself effectively on LinkedIn can help you be found, discovered, and hired because this is the platform where professionals are investing their time and energy.
Whether you wish to brush up your LinkedIn profile, need a complete overhaul, or need to learn how to optimize your engagement, you have come to the right place. Sandra Long and the team at Post Road Consulting LOVES ♥️ to help people master LinkedIn!
LinkedIn can help executives and experts:
👉 Be visible and found
👉 Be referred for new opportunities
👉 Be connected to a strategic network
👉 Attract new prospects and opportunities
👉 Impress and motivate prospects to act
👉 Warm up and improve relationships
How Can We Help?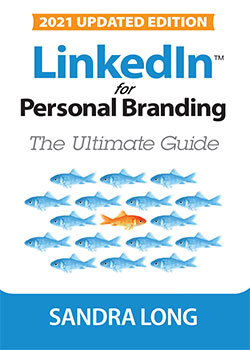 At Post Road Consulting, we have multiple ways to help executives and experts including:
✅ Sandra Long's book LinkedIn for Personal Branding: The Ultimate Guide
✅ Private Coaching
✅ "Done for You" LinkedIn Profile services
✅ Content Coaching or "Done for You" services
How Do We Begin? How Do I Know Which Path to Take?
Please start here by answering a few questions, and Sandra Long will reply with recommended next steps.
Thank you for your interest!