Social Selling: Enhance Your Sales Process
Buyers have changed, so sales organizations now need to empower their teams to establish trust online, usually before the sales process begins. Consider these statistics:
► 94% of buyers research vendors through their LinkedIn profiles
► 44% of buyers look for shared LinkedIn connections before engaging with a prospective vendor
Social Selling gives your team a clear advantage. Social Selling does not replace the need for face-to-face and phone based sales or prospecting efforts. It doesn't replace a solid sales process. What it will do is help you to accelerate and enhance your relationship selling. Consider this:
Your customers and prospects are already online looking for and engaging your sales team now.
Your competitors are online trying to find and network with your customers.
Social Selling practices can enhance and deepen customer and prospect relationships.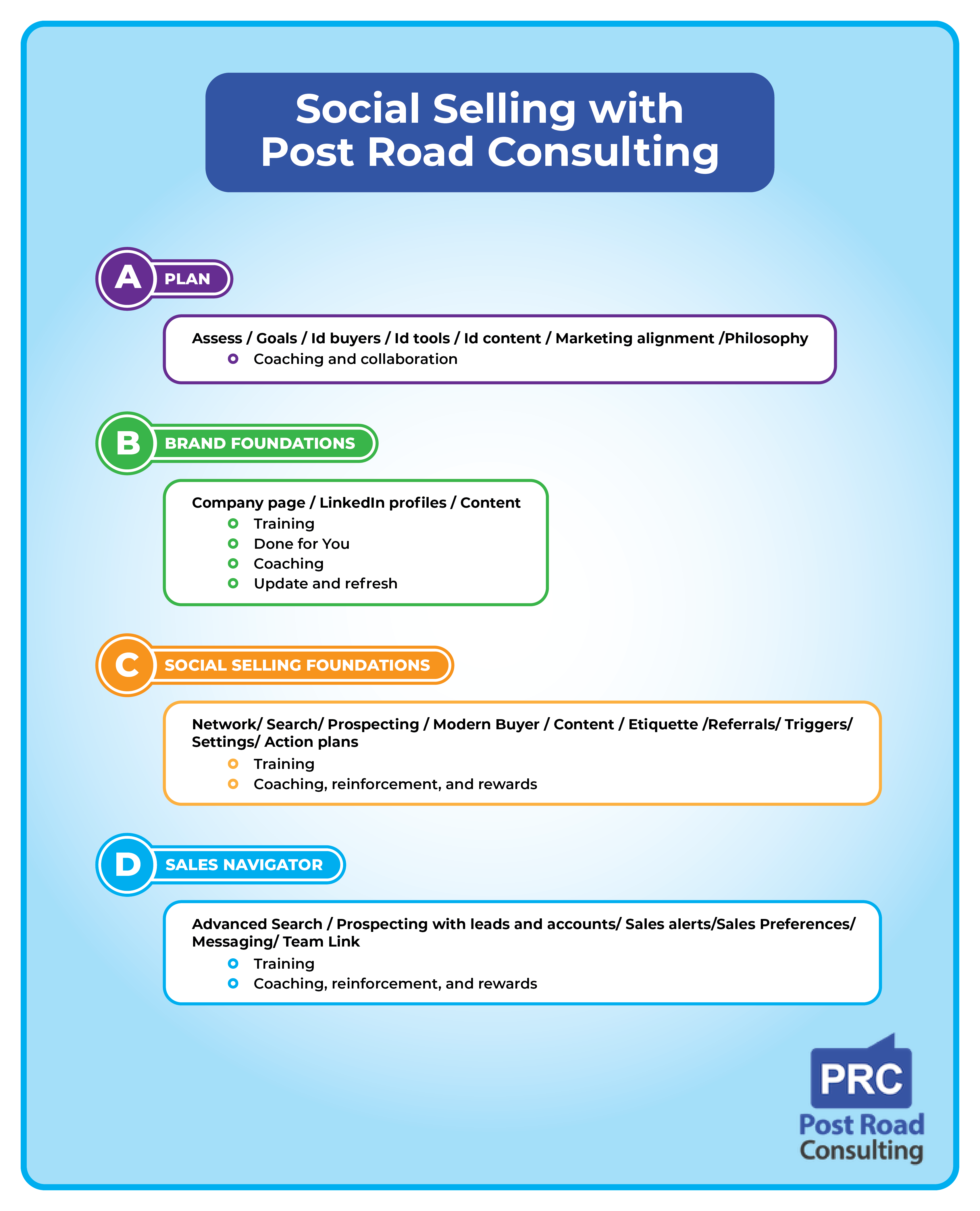 Social Selling with Post Road Consulting LLC
At Post Road Consulting, we deliver a step-by-step program for your sales team that supports your corporate social media policies, sales objectives, and your company culture. Our goals are to help you increase sales and pipeline opportunity by training your team to:
Create and maintain professional LinkedIn profiles that are customer focused and include your company branding (VS. profiles that are recruiter focused and inconsistent)
Find prospects in your target markets
Connect and communicate with prospects and buyers
Increase network of valuable industry relationships
Increase quantity and quality of sales meetings
Increase inbound leads and queries
Improve follow-up and engagement with customers and prospects
Leverage LinkedIn's advanced features and premium services, including Sales Navigator
Consider our Social Selling programs for your sales team. Please contact us to discuss your specific requirements. We look forward to hearing from you.