LinkedIn Training in Massachusetts
There are now over 74,000 organizations in the Bay State with a LinkedIn presence. Within that number, Massachusetts boasts 774 higher education and over 1000 biotech organizations using LinkedIn. As far as individuals, there are close to 3 million LinkedIn users in the commonwealth, with 29,000 CEO's.
Your prospects are on LinkedIn looking for resources, partners, clients, new buyers, employees, and employers. Is your company or school positioned for success on LinkedIn? Can your prospects find your company or students? LinkedIn is the best opportunity for your team or students to make a positive impression immediately.
Fortunately, LinkedIn can help you and your team (or students) connect globally. So yes, we can all better connect with prospects in Massachusetts, but the opportunity is so much greater. What better way to reach out, impress, and attract your ideal client, partner, or employer?
Post Road Consulting is the largest, fully dedicated LinkedIn advisory in New England. The president, Sandra Long, is the author of LinkedIn for Personal Branding and a TEDx speaker. Her talk is called LinkedIn Community: A Super-Power Hiding in Plain Sight and is available on YouTube now. Post Road Consulting works with sales, HR, senior executives, individuals, colleges, and students to drive better results with LinkedIn.
LinkedIn Profiles
Your brand, LinkedIn profile, and network are your most important professional assets today. How important is a personal brand? Well today's savvy professionals attract prospects because of their unique value and well-defined brand. LinkedIn is the best vehicle to demonstrate your value online. You may be interested for yourself, your sales or HR team, your school, or your senior executives. Learn more or contact us.
Corporate LinkedIn Training in Boston, Worcester, and Springfield Massachusetts
Savvy companies use LinkedIn to attract buyers, prospects, partners, candidates, and industry opportunities. You can expect that your prospects are viewing your company page and employee profiles. It's always great to get referred, but LinkedIn is now a major factor in how your organization is perceived. We help your teams leverage LinkedIn for more significant impact. Learn more about training and our business services for companies, or contact us.
Social Selling – LinkedIn Sales Training
Making cold calls no longer works as well as it did years ago. Today's buyers are digital, mobile, and wish to be doing business confidently with someone connected to their network. If your sales team isn't engaging on LinkedIn with prospects and building a strategic selling network, they are missing out. The first step is guiding your team to create a buyer-focused LinkedIn profile. Then your team learns to find and engage with prospects on LinkedIn. At Post Road Consulting, we love work with B2B sales teams. Learn more about the process or contact us.
C-Suite Executives – LinkedIn Training for Executives
Today's C- Suite executives should have an impressive digital presence, and we help them every step of the way. Your senior team is speaking at events, engaging with top clients, and being viewed by many interested parties. If you're still wondering how C-Suite execs can make an impact on LinkedIn, please read this and share it. Post Road Consulting helps your senior team build impressive LinkedIn profiles, industry content, and a robust executive network. Some of our profile solutions provide extra "Done for You" support. Learn more or contact us.
Social Recruiting – LinkedIn Training for HR Pros
Your company's recruiters and hiring managers need to optimize LinkedIn to attract and engage top candidates and leverage all the fantastic LinkedIn capabilities. In addition to training and consulting, we offer a digital candidate audit to improve the online experience of your applicants and prospects. Learn more or contact us.
LinkedIn Training for Colleges and Universities
College students, alumni, and new grads now need to optimize LinkedIn to position themselves for new jobs and to advance career opportunities throughout their careers. 94% of recruiters use LinkedIn to vet candidates, so our students and grads can't afford to miss out. We help colleges with training, coaching, speaking, and student support. Learn more or contact us.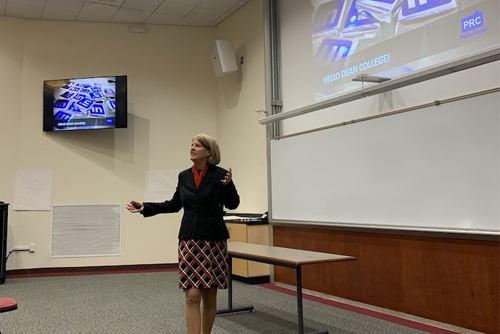 LinkedIn Training for Individuals
Today's professionals are using LinkedIn to find opportunities and to be found for jobs and speaking gigs and to open up new sales opportunities. Expect profile views as soon as your name is mentioned or referred. We help individual clients with virtual workshops, on-demand video training, profile services, an exclusive LinkedIn Club, and coaching. Learn more or contact us.
Let's get to know each other
If you are interested in staying on top of LinkedIn changes and ideas, I recommend you subscribe below to our monthly newsletter. We would love to keep in touch.