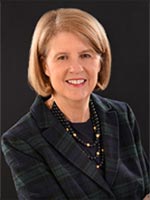 Hello Friends 🌸
Greetings -The year is rolling by fast and I am excited about all the new business opportunities for 2023. Meanwhile, LinkedIn keeps sending us fresh updates and tools. I hope you will like the new features noted this month.
---
LinkedIn Updates – April 2023
For Creators:

👉 I mentioned Collaborative Articles in last month's email. Even despite some nice SEO potential, some creators are complaining about them. The generic AI base articles leave something to be desired. I have tried writing on only one so far, and it was far from impressive as an article.
👉 LinkedIn is testing a new UX for creating posts. Expect a much cleaner experience.
👉 I just heard that we will be able to drag and drop images into posts. Ok by me.
👉 I am waiting for the carousels feature. Does anyone have this one yet?

👉 LinkedIn is evidently beta-testing sponsored personal posts. I remain very skeptical of this concept.
For Companies:
👉 LinkedIn is adding additional filters for B2B product searches.
👉 I just read that LinkedIn will now allow companies to filter job candidates by race, in order to advance diversity.
👉 I heard that there will be a new messaging tab on company pages, but haven't seen it myself yet. I keep looking.
For Job Seekers
👉 LinkedIn is testing personalized "Job Collections" for more casual job seekers.
👉 Notify a company that you are interested in working thereby indicating "I am interested" on the company page.
Interesting for all
👉 LinkedIn is partnering with Clear to validate profiles in the USA. This is an effort to stop fake profiles. The great news is that it will be a free feature, unlike Twitter and Meta (Facebook and Instagram). Here's what it may look like ⬇️ and my POST explaining more about profile verifications.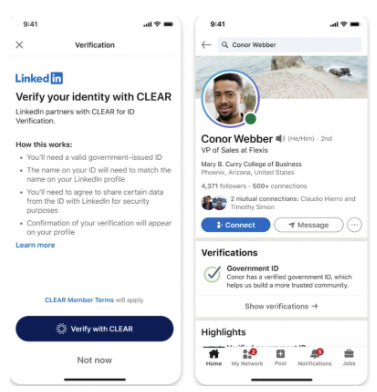 👉 LinkedIn will be testing Artificial Intelligent writing for members in their About essays and headlines. I have very low expectations after seeing their other AI initiatives.
👉 Look for "Suggested Posts" which will be marked accordingly. LinkedIn is planning to circulate content more widely with this move.
---

April ☂️ Gratitude and Advice Corner

👉 Gratitude to the NBB participants of our last workshop Post
👉 Grateful to the MPI group that I spoke to this past week. Post
👉 Thank you to some wonderful National Speakers Association friends from New Hampshire. Our first lunch Post
👉 Advice for B2B sellers about what they need to learn Post
👉 Advice for B2B sellers about pre-call planning Post
👉 My walking and working post. Do you walk and work like me? Post
👉 Wondering about top speaking topics for 2023? Check out this Post
---
LinkedIn Profile Team Audit 🔍


Wondering how you are faring with YOUR LinkedIn presence or that of your team?
Let us audit your team and provide you with some valuable (and free) insights!
---
📘 Book Information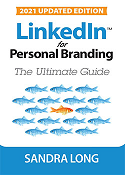 Where to order:
🇺🇸 USA Amazon.com
🇨🇦 Canada Amazon.ca
🇬🇧 UK Amazon.co.uk
🇦🇺 Australia Amazon.com.au
---
Extreme gratitude ❤️ for the wonderful ♥️ book reviews:
I appreciate each and every book review. Testimonials and reviews are so important for authors!
I am happy to report that we are now up to 200 reviews for LinkedIn For Personal Branding: The Ultimate Guide.
---
Major 2023 Program Areas 📆 ❄️........ Let's set up a time to discuss how to activate your organization
👉 B2B Sales Boost
👉 LinkedIn Sales Navigator Training
👉 LinkedIn Brand Ambassadors
👉 Reimagine Your Event
👉 Hiring Heroes
---
My Recent LinkedIn Newsletter articles
✅. Business Lessons from March Madness Article NEWEST FROM SANDRA
✅. Avoid these Content Mistakes on LinkedIn Article NEWEST FROM SANDRA
Can Thought Leadership Turn into Sales? Article
25 Content Ideas for B2B Companies Article. NEWEST FROM PRC
LinkedIn Company Page Top features from 2022 Article from PRC.
LinkedIn 2022 Features for Creators Article
LinkedIn Power Plays for Corporate Marketers Article
LinkedIn Feature Updates for the First Half of 2022 Article
Five Productivity Hacks for LinkedIn Power Users Article
Dance with Enthusiasm: Six Personal Branding Advantages for Amazing Companies - Article
Ten Awesome Places to Add Links to Your LinkedIn Profile - Article
The 10 Biggest Strategic Mistakes on Your LinkedIn Profile Article
LinkedIn Audio Events User Guide - Article
OR Better Yet..........Subscribe
---
✔️ Interesting Ways that We Help Companies: Did you know?
Our #1 focus at PRC is helping companies, leaders, and employees to succeed in their mission by leveraging LinkedIn. This includes:
✔️ Company branding and re-branding
✔️ Sales and Business Development
✔️ Hire Better. Hire Faster.
✔️ Thought Leadership and Visibility
✔️ Event Marketing
---
Who and How do we help at Colleges and Universities?
✔️ Students: LinkedIn Training and online courses. Speaker for Career or Communication Classes OR at Career Events. Live or virtual.
✔️ Staff: Upgrading LinkedIn knowledge. Latest trends and insights. Live or webinar.
✔️ Alumni: Reunion or Special event speaker. Live or webinar.
---
Like more ways to keep current with LinkedIn?
Four Ways Now
If you love learning about LinkedIn, you will want to subscribe and get my newsletter articles sent to your LinkedIn message box!

1. Get access to Sandra's LinkedIn Newsletter. Subscribe here
2. Another tip: Be sure to connect or follow me. If you don't want to miss my posts, please click on the bell 🔔 at the top of my profile.
3. If you want to know more about SALES and LINKEDIN........., be sure to follow my brand new hashtag #SalesBySandra.
4. Finally, another newsletter for businesses.....called LinkedIn Business Power. Subscribe here

---
Thank you all - Happy Spring 🌸 🌼 🌹
Stay Safe and Healthy!

Sandra
Let's be social! LinkedIn Profile | LinkedIn Page |
PS Check out my book here and consider subscribing to this newsletter below