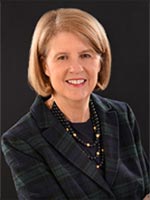 Hello Friends!
I hope you are all on your vaccination journey like me and my family members! Who would have thought that we would all be SO excited for a shot in the arm? Here is my sticker from Yale New Haven Hospital. But here we are in April 2021 - grateful to be moving forward.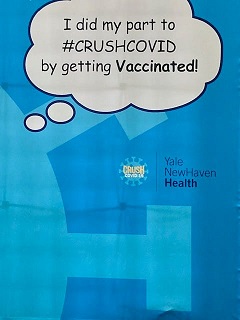 ---
Feature Updates
LinkedIn has outdone themselves - yes, really, I am serious. These new features are worth salivating for. Here we go but let me tell you that I know about these - but DON'T yet have them. So I am on pins and needles waiting.....
👉 Cover video for LinkedIn profiles - up to 20 seconds
👉 Cover video for LinkedIn Pages - up to 30 seconds
👉 Audio functionality similar to Clubhouse...... WHOA!!
👉 Optional "creator mode" will put your posts, follower count, and hashtags at the top of your profile
👉 Dedicated Service pages for freelancers and small biz owners
👉 LinkedIn Live broadcasts will show on your background banner .......WHAT?
👉 Gender pronoun field on Profiles
👉 New photo frames for Profiles
👉 Better profile experience options for stay-at-home parents and those on sabbatical
---
LinkedIn and Microsoft News
🗞LinkedIn profiles were offered for sale on the dark web this month. This was not a data breach, but the profiles were illegally scraped. Only publicly available information was taken, so it shouldn't be a major worry.
🗞 Microsoft announced a major acquisition of Nuance, a healthcare data company
---
Beware 🛑 Emoji Issue
I have warmed up to emojis in general. You probably know this if you read my book. However, I have never recommended adding an emoji in the name field or headline of a LInkedIn profile. I think it presents several possible issues, but I have also chalked it up to "personal preference." However, there was a lot of news made this month when LinkedIn shut down an account because of emoji in a member's name field. Technically, adding anything but a name and a professional designation is NOT allowed by LinkedIn's terms of service. Please also don't add keywords or emojis to your name field on LinkedIn!
---
College Graduation Time! 🎓
I would be honored to have you consider my book, LinkedIn for Personal Branding, as a gift for your favorite new grad!
---
Extreme gratitude for the wonderful ♥️♥️♥️ book reviews - check out these snippets:
FROM WENDY: "There's no need to "wing it" when there's Sandra's book out there to walk you through how to maximize everything Linked In related. Great job, Sandra."
FROM AMAZON READER: "Sanda Long's new book on personal branding strategies on LinkedIn was filled with practical and actionable tips and insights that will immediately help job seekers, business owners and sales people improve their online brand. I especially appreciated her different approaches to writing the ABOUT / SUMMARY section. In each of Sandra's books you pick up something new. Thanks Sandra for being a relevant resource to the LinkedIn community. I highly recommend her book"
FROM NATALIA / EVA: "Not only you will feel inspired and motivated to have your LinkedIn page optimized, but also you will get truthful insights as to why managing your online image in today's world and in your community is so crucial to staying engaged and relevant..... As a professional, I highly recommend this book to anyone who is looking to get LinkedIn profile started or to anyone who is looking to improve/optimized an existing one."


😄 Thank you for these new book reviews! Every review is priceless to me!
⁉️ Have you read my book and will YOU write me a review? It takes about 3 minutes and is a huge favor. Please email me and I will gladly send you a link to do so.
---
Podcast Interview ⏬
My new friend (and LinkedIn Club member) Leonardo Bellini of Italy interviewed me for his podcast LinkedIn for Business. Normally, his shows are in Italian but this one was (thankfully for me) in English. Thank you Leonardo!
---
Just a few Upcoming Events: 🗓
👉 TOMORROW April 27 @ 4:30 PM EST - Personal Branding Power Chat (30 minutes) with my friend Gail Lowney Alofsin - on Clubhouse. Use this link from your iPhone to find us and here is my LinkedIn post
👉 April 29@ 2 PM EST for ISM-NJ - "Meet the Author" Interview on Zoom - Register
👉 May 7 @ 12 PM EST - LinkedIn Company Pages Master Class - for Club Members. Members can register in the Club Hub.
👉 May 20 @4 PM EST - LinkedIn Profiles, Pages and QA - Zoom session for Club Members. Members can register in the Club Hub.
👉 May 26 @ 12 PM EST - LinkedIn for Personal Branding: Insights for 2021 - Westport Library - Register
👉 June 3 @ 12 PM EST Personal Branding Tools and Apps - for Club Members. Members can register in Club Hub.
👉 June 7 - 8 - National Notary Conference Register
Maybe it is time you joined the LinkedIn Club?
---
Gratitude ♥️♥️♥️
👉 My book was mentioned in this list of TOP Social Media books for 2021. Link
👉 Thank you Bill Soroka for inviting me to join you to speak at your Clubhouse show

👉 Grateful to WEDC for asking me to speak about Personal Branding last week

👉 Thanks to ASIS International Southern CT members - I had a blast speaking to your group
---
SO there you have it for my April newsletter. Please drop me a line and let me know how YOU are doing!
Stay healthy and keep smiling
Sandra Long
Let's be social! LinkedIn Profile | LinkedIn Page | Facebook Page | Instagram | Twitter
PS Check out my book here and consider subscribing to this newsletter below