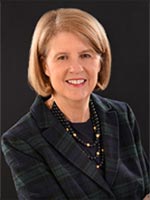 Greetings Friends
I hope you had a wonderful Thanksgiving 🦃 holiday (my USA friends). And for everyone, I know you are excited to wind down another year. I always look at it as an opportunity to recalibrate a few things.
---

LinkedIn Updates – October 2022
For Companies:
👉 Company page admin functions are apparently moving over to the Business Manager
👉 Check out Employee Verification under the admin tab
👉 Now you can add workplace policies, company benefits, and other info onto your company page that would be interesting for candidates. Check them out!
Interesting for all:
👉 The most enormous excitement for new features is the CAROUSEL post feature, which I do NOT have yet. I hope to get it next month and send you all an example. Do you have it yet? Roll-outs are usually very random!
👉 Second most exciting new feature........and still waiting for........is the post-scheduling option. Will be trying this one too, and will keep you updated.
👉If you have a newsletter, you can expect that LinkedIn will now be prompting new followers to subscribe to your content. How fantastic!
👉 In a similar vein, your newsletter will start to appear in the main feed (after a search) in the future. I don't see this yet, but happy to hear about it.
👉 In the spirit of avoiding fake profiles, I previously mentioned the new feature "About this profile." Here is my recent post covering this topic.
👉 LinkedIn industry codes. People have been mentioning this new online list for months. Here you go.
👉 Here is the new celebrations page. Very handy for a quick look at key updates within your own network. Give it a go and reach out! "Be the friend first," as I love to say.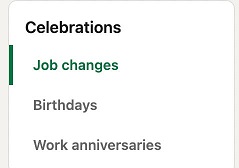 ---
November 🦃 Gratitude and Advice Corner:
👉 Thank you to Paul Lewis and Pitney Bowes. I really enjoyed speaking to their global marketing team on November 9. Here is my post about it and the article.
👉 Deep gratitude to all veterans. Here are some tips for that amazing community.
👉 I hope this is helpful......My post about fake profiles
👉 Gratitude for Notary Business Builders. This month we spoke about content and here is my post.
👉 Thank you to AmTrust for hiring us to give LinkedIn profile advice at the TitleTech show in New York City on November 14. Check out the pic in our company page post.
👉 The CEO of LinkedIn announced that skills were becoming more relevant than a degree, so here is my poll post on the topic!
---
And two slightly more personal posts
👉 ❤️ So I FINALLY did it. I moved into my new home, and of course, I had to post about my mover Eric. I hope you will read it here.
👉 My Thanksgiving business gratitude post
---
LinkedIn Profile Team Audit 🔍- Perfect for a January program!
Wondering how you are faring with YOUR LinkedIn presence or that of your team?
Let us audit your team and provide you with some valuable (and free) insights.
---
Books for Gifts: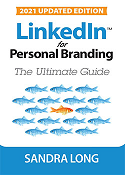 Where to order:
🇺🇸 USA Amazon.com
🇨🇦 Canada Amazon.ca
🇬🇧 UK Amazon.co.uk
🇦🇺 Australia Amazon.com.au
---
Extreme Gratitude ❤️ for the Wonderful ♥️ Book Reviews:
I appreciate each and every book review. Testimonials and reviews are so important for authors!

I am happy to report that we are now up to 162 reviews for LinkedIn For Personal Branding: The Ultimate Guide.
---
✔️ Kickoff 2023 with a STRONG START!
Our #1 focus at PRC is helping companies, leaders, and employees to succeed in their mission by leveraging LinkedIn. We would love to help your company and team in the new year. This includes:
✔️ Company branding and re-branding
✔️ Sales and Business Development
✔️ Hire Better. Hire Faster.
✔️ Thought Leadership and Visibility
✔️ Event Marketing - Let's Power up YOUR event!
---
My Recent LinkedIn Newsletter articles
LinkedIn Power Plays for Corporate Marketers Article NEWEST
LinkedIn Feature Updates for the First Half of 2022 Article
Five Productivity Hacks for LinkedIn Power Users Article
Dance with Enthusiasm: Six Personal Branding Advantages for Amazing Companies - Article
Ten Awesome Places to Add Links to Your LinkedIn Profile - Article
The 10 Biggest Strategic Mistakes on Your LinkedIn Profile Article
LinkedIn Audio Events User Guide - Article
OR Better Yet..........Subscribe
---
Like more ways to keep current with LinkedIn?
If you love learning about LinkedIn, you will want to subscribe and get my newsletter articles sent to your LinkedIn message box!
Another tip: If you don't want to miss my posts, please click on the bell 🔔 at the top of my profile
---
Thank you all - Stay Safe and Healthy!

Sandra
Let's be social! LinkedIn Profile | LinkedIn Page | Facebook Page | Instagram | Twitter
PS Check out my book here and consider subscribing to this newsletter below