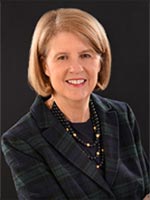 Hello Friends!
Greetings to all. May has been a lovely month and I even took my first "mini-trip" to Boston for a night. So I can see the future and am very excited about personal and business travel coming back soon.
Let's dive right in and see what is happening with LinkedIn this month.
---
LinkedIn Updates – May 2021
👉 LinkedIn is testing invitation credits. I think this is a good move because quality trumps quantity for networking on LinkedIn. And let's face it, this is another way that LinkedIn can combat automation. For some reason, some business people have learned to spam their connections on LinkedIn. So I am in favor of these invitation limits.
👉 LinkedIn Events have improved reminders and a few other nice enhancements
👉 GoToWebinar can live stream over to Facebook, YouTube, AND LinkedIn.
For Companies:
👉What would you say if I told you that companies can publish articles? Hmm, that's what I thought you would say!
For Salespeople / LinkedIn Sales Navigator
👉 Bookmark your favorite alerts
👉 Notice a "left account" flag
👉 Create a "Champions List" with the Enterprise version

👉 Discover CRM Updates

Trying out Features on My Profile - yes it's fun!
👉 My new Services Page is now available so you can find it now on my LinkedIn profile.

👉 Check out my new cover video on my LinkedIn profile. Here's an image that I snapped during the uploading process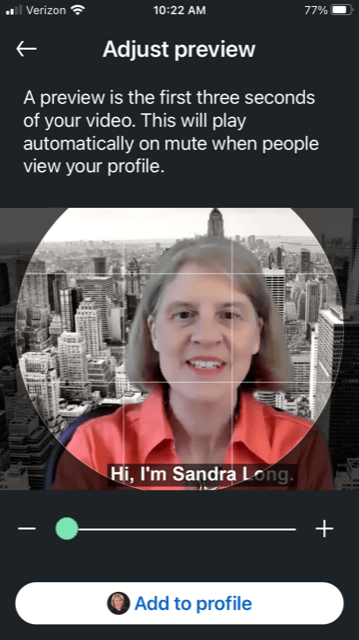 For LinkedIn Club members - I look forward to diving into these features some more with you all
For Everyone - Let me know your thoughts! What feature are YOU waiting for?
Please VOTE and COMMENT here on this LinkedIn post >>>> Which exciting new features do YOU have now
---
LinkedIn and Microsoft News
🗞 LinkedIn turned 18 on May 5! Here is my post which was a POLL about how long people have been members.
🗞 LinkedIn reports 750 Million users.......and record levels of engagement on the platform. Conversations are way up! 📈Are you part of it? Or do you wish to be?
🗞LinkedIn reported that shorter InMails perform better, according to their studies.
---
A Few Upcoming Events 🤷‍♀️
📣 University of Rochester - June 2
📣 LinkedIn for Notaries - National Notary Association Conference - June 6 and 7 Register
📣 University of Rhode Island - June 10
---
Congratulations to the New Graduates! 🎓
Your favorite new graduate probably needs to know about LinkedIn. I hope you will consider gifting him or her a copy of my book LinkedIn for Personal Branding. Here is a link to my international book page. Thank you in advance, and best wishes to all the graduates!
45 seconds book trailer
---
Extreme gratitude for the wonderful ♥️ reviews - check out these snippets:
FROM KATHARINE: "This book provides a valuable foundation for anyone looking to take their LinkedIn profile to the next level. It's filled with helpful advice and examples. There were many features on LinkedIn that I had no idea existed and this booked exposed them all. Now I'm proud to share my LinkedIn profile with other professionals and contacts."

FROM SANDRA C.: "I love having the paperback version of this book to browse and earmark as I go.......
Her approach is very much about you and your personal brand and using LinkedIn long-term to build relationships. This would be a great book to add to your reference shelf, assign to students, and buy in bulk for your team."
FROM MAURA: "As a novice LinkedIn user, this book has helped me realize the importance of Linkedin branding. This book is highly informative in an easy-to-read and understandable manner. Sandra created a roadmap that provides a step-by-step view and practical and actionable information and insights. To further deepen the knowledge laid out in each chapter, there are links to a real-time companion website that provides additional tips and videos. This book is a definite must-read if you want to take advantage of the branding and business opportunities LinkedIn provides. "
Thank you Katharine, Sandra, and Maura!
Every book review is priceless to me!
---
Gratitude ♥️ for Diane Helbig and her Podcast
I was delighted to be interviewed by Diane on her award-winning podcast. Here's my post so you can read about it AND tune in.
---
Thank you all for being a part of my community. I send along the warmest regards and wishes for your health and happiness.
Take care,
Sandra Long
PS Check out my book here and consider subscribing to this newsletter below