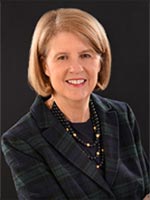 Hello Friends!
I continue to see so much wonderful engagement on LinkedIn. And I love to hear from all of you on the platform. Please be sure to connect with me if you haven't done so already!
---
LinkedIn Updates – April 2022
For Companies:
Employees can send company page invitations to first level connections
Admins can use the mobile
app to send out company invitations
You can set up a simple lead generation form for your company page
You will soon be able to invite up to 250 people per month to connect
For Premium Account Members
More sophisticated analytics and filters on "who has viewed your profile" is coming your way
For Creators:
Look forward to more in-depth analytics
of your posts
Excellent video analytics are here and covering discovery, engagement, performance, and demographics
Live captions for Audio
Events
For Service Providers:
Link your company page to your Services page
Interesting for All:
Discover many more search filter options for content searches. For example, search by member or companies. Check out my video post
Add a URL to the intro card of your LinkedIn profile. Here is my video post about this new feature. This one is my FAVORITE
of the month
New profile video tools are coming and I will keep you posted
More options for the industry listed in your profile. LinkedIn options are going from the original 147 to over 500 options.
---
Recent Podcast Interview - about Social Selling
I was a guest speaker for B2B Marketers on a Mission - Check it out here link
---
Book Information: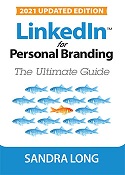 Where to order:
USA Amazon.com
Canada Amazon.ca
UK Amazon.co.uk
Australia Amazon.com.au
---
Extreme Gratitude for the Wonderful Reviews - Check Out These Snippets:
FROM JOERG: "This book helped me discover how to efficiently build my brand and connect with professionals online. Congratulations to Sandra Long for publishing this easy & very informative read. I especially liked the 10 specific tips (incl. starting with a strong hook and writing for your target audience). The large number of specific examples for the different approaches were very helpful. The practical ideas and strategies for how to engage with others in the network were inspiring."


FROM GIANMARCO (translated from Italian
): "I bought this book because I was looking for a clear and detailed text at the same time, which dealt with the approach to the world of Linkedin. This book is far beyond expectations. If I could have given it 6 stars and not 5. For those who want to approach the world of Linkedin or for those who want to enhance (like me) their skills in the field, this book is really for you! Written in a simple, concise way and with examples that reinforce what is said in each chapter. At the end of the whole, there is also the possibility of accessing digital content on the author's official page. Highly recommended! And congratulations to Sandra Long! ;)
Thank you Joerg and Gianmarco! Every review is priceless to me!
---
Welcome to New Readers from Around the World
I decided that I need to say HEY to the new readers who have joined the Reader Resource and email list in the last month. WELCOME to Dina, Lee, Vitor, Joanna, Gianmarco, Steph, Amit, Rhya, Chris, Jack, William, and Lindsey. I hope you will all connect with me on LinkedIn and drop me a note.
---
Hosay Got a New Job!
I was honored to help a refugee from Afghanistan with her LinkedIn profile earlier this month. She is a wonderfully brave young lady. The good news is she got a new job in Bridgeport CT thanks to loads of caring American volunteers here in CT. I wanted to share the good news, since so many people have been asking me about her.
Here is my post about Hosay
---
Read my newest article:
"The 10 Awesome Places to add a Link on Your LinkedIn Profile"
---
Interesting Ways that We Help Companies: Did you know?
Our #1 focus at PRC is helping companies, leaders, and employees to succeed in their mission by leveraging LinkedIn. This includes:
Company branding and re-branding
Sales and Business Development
Hire Better. Hire Faster.
Thought Leadership and Visibility
---
Who and How Do We Help at Colleges and Universities?
Students: LinkedIn Training and online courses. Speaker for Career or Communication Classes OR at Career Events. Live or virtual.
Staff: Upgrading LinkedIn knowledge. Latest trends and insights. Live or webinar.
Alumni: Reunion or Special event speaker. Live or webinar.
---
Want More Ways to Keep Current with LinkedIn?
If you love learning about LinkedIn, you will want to subscribe and get my newsletter articles sent to your LinkedIn message box!
Here is the link
Another tip: If you don't want to miss my posts, click on the bell at the top of my profile.
---
For my Speaker Friends! Top TEDx and NSA Speakers Sharing Wisdom
I am a speaker for this amazing free speakers summit. Learn from some of the best speakers about growing your business. Click here to register and check out the agenda!
---
Thank you all and Happy Spring!
Sandra
Let's be social! LinkedIn Profile | LinkedIn Page | Facebook Page | Instagram | Twitter
PS Check out my book here and consider subscribing to this newsletter below