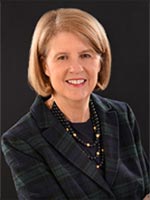 Hello Summer ☀️ Friends!
Yay for summer, and for hopefully getting back to normal. I am having fun seeing people but still being careful.

We have been extremely busy here at Post Road Consulting. What are we doing? LinkedIn Training on Zoom, Zoom, Zoom and of course LinkedIn profiles and many other LinkedIn or content-related projects.
---
LinkedIn Updates – June 2021
👉 Saved Searches appear to be GONE. Honestly, that feature has been so unreliable that I stopped teaching about it a while ago. Ready to move on!
👉 LinkedIn is testing up to 3000 characters on a post. Who needs posts that long? Not me.
👉 LinkedIn is prompting us to SHARE our comments as a new post. This feature is quite controversial with my colleagues around the globe. Lots of debate and head-scratching. I have used it a few times but the jury is still out. I hope you will give me YOUR opinion in this POLL.
👉Dark mode on the desktop is being tested. I don't need this, but some people love dark mode.
👉 I finally got both Cover story video AND Creator mode - 2 interesting newer features. I was WAITING! I have had fun creating new training modules on these new features. My 30-second video is now available on my profile if you care to check it out on my profile. Let me know what you think. Send me a message with your thoughts?
New Features For Companies:
👉You can now more easily "boost" your organic posts on the company page. Quick and easy. You can also boost events.
👉 Company pages are now getting Articles. This is a great thing to keep watching for.
👉LinkedIn is prompting us to share company posts on our personal feed, so once again a new emphasis on sharing.
⁉️ Please add YOUR opinion (comment) to these company features on this POST.
---
LinkedIn and Microsoft News
🗞 LinkedIn is investing in Hopin an event technology company. I used this application late last year when I spoke for the Women in Insurance UK conference.
🗞 LinkedIn just published "Ready for Business" digital magazine. You can access it HERE.
🗞 LinkedIn changed its logo in early June for Pride Month like so many companies around the globe. See their temporary June logo below:

---
Recent Happenings
⭐️ Major PRC Project: Our whole team has been working hard for a new West Coast client. We also expanded our team for this unique opportunity. We are in the middle of doing a series of LinkedIn workshops for over 450 employees. We are grateful. ♥️ Link to my post
#NNA2021 CONFERENCE: I enjoyed speaking for the National Notary Association Annual Conference. What a great group! Here is the link to my post.
👨‍🎓University of Rhode Island: Once again, I had a blast speaking to students at URI about my book, LinkedIn for Personal Branding, which is part of their course curriculum. Link. A big thank you to Gail Lowney Alofsin!
📣 PODCAST: LinkedIn for Leaders: I had the pleasure of being interviewed by Thom Singer of Making Waves at the C-Level. Here is the link if you wish to listen
📣 PODCAST: Business Talk Library; Thank you to Terrell Turner for this fun interview. Here is the link to his post.
👩‍🎓University of Rochester: Thank you to the UR team that hosted me earlier this month. Here is link to post.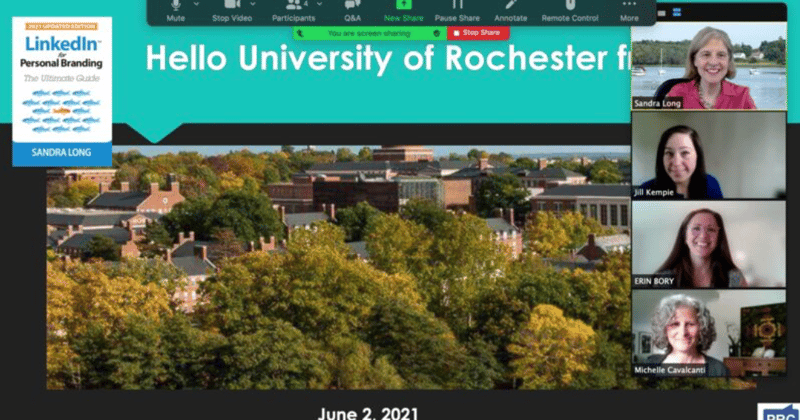 ---
Extreme gratitude for the wonderful ♥️ reviews - check out these snippets:
FROM DENNIS: "I found Sandra Long's book - :Linkedin for Personal Branding" to be a step by step road map in designing a social media plan and unique brand for my business. Each chapter builds on the previous chapter and each technique, process and suggestion in written for the veteran or new entrepreneur to understand. Thanks Sandra
FROM DEBBIE: We all know that Linkedin is the place to be; whether you're promoting yourself or your business or both. Sandra Long has written an easy to read and implement IMMEDIATELY guide to creating your brand on Linkedin. SO many great tips and actionable steps laid out in a super friendly format. Step by step instructions, crystal clear explanations and terrific examples. We can ALL up our Linkedin game, and this book shows you how to do it. Cannot recommend it highly enough.
FROM CHUCK: This book is a fantastic guide. Easy to read. Logical order and process. Comprehensive. Takes the "overwhelming" out of LinkedIn. An absolute MUST read for anyone serious about adding LinkedIn to their relationship management strategy.
FROM AMAZON CUSTOMER: This book has been a huge help to me and the company I work with. I needed to learn to use LinkedIn for both personal branding and business marketing and development. Sandra describes how to do this in an easy-to-understand, step-by-step process. Her lessons are clear with on-target real-life examples. In a short time, I have already seen a positive impact from what I have learned! I highly recommend this book.
FROM SHAWN: Sandra specifies in this book that building your LinkedIn profile is a marathon, not a sprint, and she is definitely right. With that being said, I will be looking back into her book as a point of reference as I build my LinkedIn profile throughout my professional career - even after finding employment as a graduate. I strongly suggest "LinkedIn for Personal Branding: The Ultimate Guide" by Sandra Long not only for students getting ready to enter the work force, but to any and all professionals who wish to maximize their careers and professional effectiveness. Thanks for all of your knowledge and expertise, Sandra!
Thank you Dennis, Debbie, Chuck, and Shawn!
Your reviews are priceless to me!
---
Can I help you with LinkedIn?
Here are some ideas:
👉 LinkedIn Zoom Training for your team - I have all new modules for Sales, HR, and Leadership
👉 Keynote for your event
👉 Personal Coaching?
👉 My Book, LinkedIn for Personal Branding
No matter what, I would LOVE ♥️ to help you this summer or in the fall.
---
Thanks to all, Have a wonderful, safe, and happy summer ☀️
Sandra Long
PS Check out my book here and consider subscribing to this newsletter below