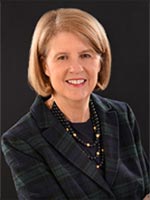 Greetings Friends!
Just when we thought we could freely travel ✈️ and visit! Now we have to be vigilant again!
We are resilient and, yes, we can do this a little while longer. Please stay safe!
As we continue to build relationships digitally - through ZOOM and LINKEDIN and other social media, now is a good time to check out the newest features from LinkedIn. So here goes:
---
LinkedIn Feature Updates - August ☀️ 2021
👉 Now we can get personal reviews on our new services page. I like it! This will all be tied into the new and upcoming LinkedIn Marketplace for service providers, which I mentioned last month.
👉 LinkedIn Native Video Meetings! Yes! Here is a link to my video post demonstrating the feature. A big thanks to Craig Patton for helping me with that video. And here is my post about using this feature in a real life scenario with a hero police officer who was out saving people in Tennessee.
👉 LinkedIn Polls 📊 within Stories? Yes, this is what I am hearing about now. What do you think?
👉 LinkedIn is Beta testing features in LinkedIn Groups to ramp up engagement. Members will get more notifications and see posts in feed. There will be conversation starters and an insight report for managers. Most interesting are activity badges 🎫 to reward the most engaged group members. These awards will be for Top Contributor and Rising Contributor.
👉 Premium members will be getting access to some articles behind paywalls for select publishers. This is being slowly rolled out and is called Premium News.
👉 The PYMK (People You May Know) feature is having an algorithm change to make visibility more equitable. LinkedIn wants to showcase different people to help expand their networks.
👉 Have you ever reported a profile? LinkedIn is experimenting with a new message when you report a "problem profile" - see below: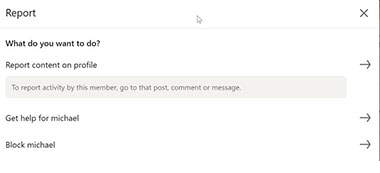 ---
LinkedIn and Microsoft News
🗞LinkedIn is now a $10 B company, according to Microsoft
🗞 LinkedIn announced their Changemakers program, which is their way to highlight specific influencers, activists, and leaders. This is an invitation-only program starting in the UK.🇬🇧
🗞 LinkedIn is hiding connections of Afghanistan members - to protect them from the Taliban. Other social media platforms are doing similar things to help.
🗞 LinkedIn published a new brand guide for company pages and small biz brands. Get it here.
---
Podcasts
I have been very busy guest speaking on podcasts. I am really having fun doing this. A few from August:
📣 Your LinkedIn Profile: It's Not All About You - with Dr. Richard Strictland on An Unconventional Life Podcast
📣 LinkedIn for Leaders - on the Essential Leadership Show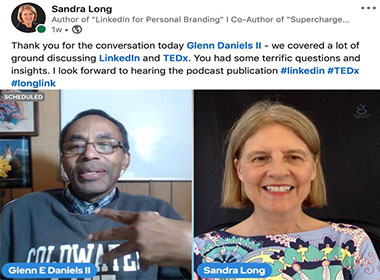 ---
Publication 📰 News
LinkedIn for College Students - inChemistry Magazine
I was interviewed and quoted for inChemistry Magazine, sponsored by the American Chemical Society. This article includes LinkedIn tips for undergrad Chemistry students, but the principles apply to all students. Here is my post and link to the article.
---
Other College News
I am gearing up for Fall Semester - Looking forward to speaking to students and staff. I hope to add a few more, because I do love to work with higher education pros.
---
Extreme gratitude for the wonderful ♥️ book reviews in August:
FROM ERIC: "As an entrepreneur, speaker and trainer, Sandra Long's book "LinkedIn for Personal Branding: The Ultimate Guide" has been of great value to my business by providing the concepts, techniques, tips, and tricks needed to enhance my company's brand awareness, business connections, and new client acquisition. I highly recommend this book trying to do the same."

FROM TODD: "Do NOT Read this book...unless you have a LinkedIn profile! :) In which case you MUST read this terrific guidebook by LinkedIn guru, consultant, speaker, trainer, and coach Sandra Long who provides a wealth of valuable tips to help the reader elevate their LinkedIn profile from amateur-level to All-Star!
This brand new 2021 edition is, indeed, the latest and the greatest way to ensure that you are setting yourself up for success and leveraging the benefits and the power of LinkedIn. I keep this book within arm's reach at all times and refer to it often as it is, most definitely, "the ultimate guide"!
😀 ♥️ Thank you Eric and Todd! Every review is priceless 💰 to me!
---
LinkedIn Club News 🗞
What is happening in the LinkedIn Club?
✔️ We just did a special session about LinkedIn and being a guest podcaster - how to find opportunities, and all the ways to display or post about them on LinkedIn.
✔️ LinkedIn Profiles and Pages Zoom every month
✔️ Deep dives into new features every month - with video or Zoom lessons.
✔️ UPCOMING: LinkedIn Marketplace is one of our next topics for September - I want my Club members to be ready for the upcoming opportunity for service providers.
---
How can I help 🆘 you with LinkedIn?
Please email me back right - just reply here! Let's get creative!
And a few links and other options for you:
Follow Post Road Consulting on LinkedIn
Send me a message via LinkedIn
Check out the book trailer - 45 seconds
---
Thank you and I hope you enjoy the end of the Summer!
Please stay healthy! 😀
Sandra Long
PS Check out my book here and consider subscribing to this newsletter below