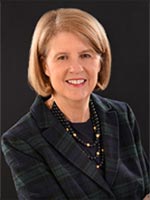 Hello Friends
2021 was an INCREDIBLE year for LinkedIn feature updates, changes, and enhancements!
If you have been receiving emails from me all year, then I hope those helped keep you fully informed. Let me know by replying to this email. I always like to hear from folks!
---
December Fun New Feature:
Today I will let you know about a fantastic new feature surprise for December. We can now subscribe to individuals to be notified of their posts. Wow! I love this. Now keep in mind this is not a newsletter subscription, but a general post notification, and we register with the cutest little bell . Please check out this post and see the screenshot example.POST
---
2021 Top Features ( Sandra's favorites)
We had so many! Here is my list of the top 10 from 2021.
1. Cover story video - a short video clip (at your headshot) allows you to differentiate yourself from everyone else! ( Think orange fish
vs. blue
) And you don't have to get too fancy. Authentic is best. Here's mine - - just click on my photo
2. Bell subscription - brand new and described above
3. Improved company search filters. Here is a link to a video post.
4. Services pages and reviews - great functionality for freelancers!
5. Native video meetings. Here is a link to my video post demonstrating the feature.
6. Improved search filters for job seekers looking for remote or hybrid work. And companies are also able to highlight remote or hybrid jobs better.
7. Creator mode has some exciting possibilities for content creators with a good following (This feature is not for everyone)
8. Account mapping on Sales Navigator. Check it out here in this post
9. Better view of the Featured section with new profile layout. Here's my article about this and new profiles in general.
10. Several enhancements for Company Pages, including Articles and the My Company tab for employees.
---
Last - Minute Gift Idea!
Mini book trailer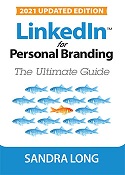 Where to order:
USA Amazon.com
Canada Amazon.ca
UK Amazon.co.uk
Australia Amazon.com.au
---
Deep Gratitude for this wonderful new book review:
"As a career coach and adjunct faculty of career courses, I enjoy sharing "LinkedIn for Personal Branding: The Ultimate Guide" as a go to resource! Everything from gaining a deeper understanding on how employers use LinkedIn to how to write the all important "About" section, this book has you covered. Whether you're a freshman in college or mid-career professional looking to boost your profile and use on LinkedIn, I would highly recommend you start with this book!"
Thank you, Victoria! Every review is priceless to me!
---
Gearing up for 2022!
I am very excited to be gearing up for a few exciting new initiatives for next year. Here is a photo of me videotaping content for a new program. Please let me know how I can help you next year too.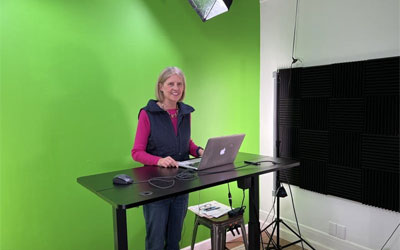 ---
Are you subscribing to my NEW LinkedIn newsletter?
If you love learning about LinkedIn, you will want to subscribe and get articles sent to your LinkedIn message box! Here is the link
---
Thank you all for being on my email list.....
Happy Holidays!
Please Stay Safe and Healthy!
Sandra
PS Check out my book here and consider subscribing to this newsletter below