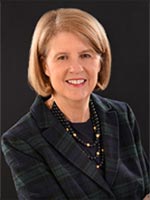 Hello Friends
What a crazy month for me! I will share my personal update at the end of this letter so I can dive immediately into the LinkedIn feature changes. August was a big month for new features. So why wait?
---
LinkedIn Updates - August 2022
For Organizations:
👉 Upgrade your event strategy with advice from LinkedIn...... and learn about their new Events Framework. Learn more here
👉 For Groups: Streamline the acceptance criteria and process; set up an automatic welcome message in your group. Nice.
👉 Diversity Nudges: Companies that hire with LinkedIn Recruiter can get nudges to more easily find DE&I candidates.
👉 Meet the Hiring Team: Display the hiring manager and team profiles on job postings.
👉 LinkedIn launched the LinkedIn Collective for B2B marketers.
For Careerists and Job Seekers:
👉 Career Milestones Display: This is being tested.
👉 Demonstrate Transferrable Skills - This is a new BETA feature. Find it in your skills section. It allows you to highlight Sales, HR, Marketing, or Project Management.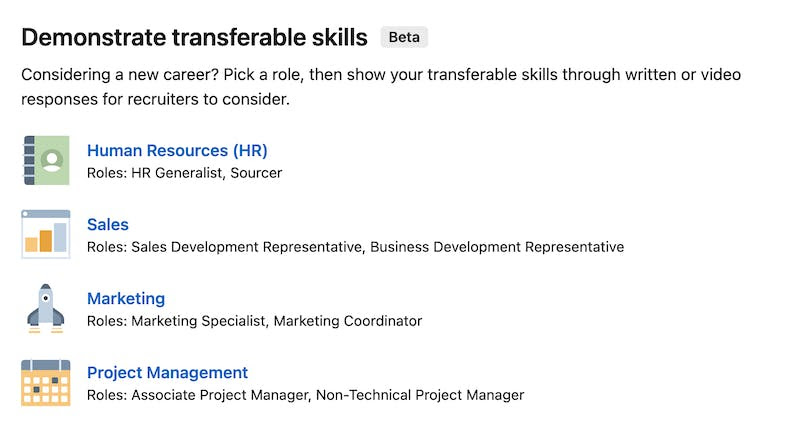 Interesting for all of us:
👉 Template option for posts: This is a new content option. Here is the information, and my example in this post.
👉 Carousel posts! Mix texts, images, and videos for a powerful post. Will be available to everyone in the fall.
👉 Pin top comments to post. Love this feature idea and can't wait to get it.
👉 Clickable links for posts: I just got this and will test it for you in September.
👉 Link stickers: The jury is out on this one. I will be checking it out.
👉 Discover feed: Coming your way. This should be worth exploring. Find events, newsletters, and videos.
👉 LinkedIn Contacts Manager. First, let me say that I am highly skeptical of this one. In the past, you could upload and sync your Google contacts, and now LinkedIn has expanded the functionality. But I say....WHY do this? Instead, send a personalized note. Be sure to take control of your invitations.
---
LinkedIn Profile Team Audit 🔍
Wondering how you are faring with YOUR LinkedIn presence or that of your team?
Let us audit your team and provide you with some valuable (and free) insights.
---
Book Information: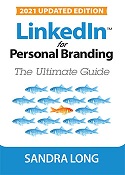 Where to order:
🇺🇸 USA Amazon.com
🇨🇦 Canada Amazon.ca
🇬🇧 UK Amazon.co.uk
🇦🇺 Australia Amazon.com.au
---
Extreme Gratitude ❤️ for the Wonderful ♥️ Book Reviews:
I appreciate every book review. Testimonials and reviews are so important for authors.
I am happy to report that we are now up to 135 reviews for LinkedIn For Personal Branding: The Ultimate Guide.
Thank you to all of you who have written a review for me. Every review is priceless to me.
---
My Recent LinkedIn Newsletter articles
LinkedIn Feature Updates for the First Half of 2022 Article
Five Productivity Hacks for LinkedIn Power Users Article
Dance with Enthusiasm: Six Personal Branding Advantages for Amazing Companies - Article
Ten Awesome Places to Add Links to Your LinkedIn Profile - Article
The 10 Biggest Strategic Mistakes on Your LinkedIn Profile Article
LinkedIn Audio Events User Guide - Article
OR Better Yet..........Subscribe
---
Interesting Ways that We Help Companies: Did you know?
Our #1 focus at PRC is helping companies, leaders, and employees to succeed in their mission by leveraging LinkedIn. This includes:
✔️ Company branding and re-branding
✔️ Sales and Business Development
✔️ Hire Better. Hire Faster.
✔️ Thought Leadership and Visibility
✔️ Event Marketing
---
Who and How do we help at Colleges and Universities?
✔️ Students: LinkedIn Training and online courses. Speaker for Career or Communication Classes OR at Career Events. Live or virtual.
✔️ Staff: Upgrading LinkedIn knowledge. Latest trends and insights. Live or webinar.
✔️ Alumni: Reunion or Special event speaker. Live or webinar.
---
August Gratitude and Advice Corner:
👉 Thank you to the hiring manager class attendees in August. Here is my post.
👉 Thank you to NBB and the Prospecting Class. Here is my post.
👉 For continuous learners, here you go
---
My Personal News
I recently relocated after many years in Westport Connecticut. What a summer I had with packing and saying goodbye. I wrote this LinkedIn post about my new temporary office. And read it to find it where I am now... Check it out here.
---
Like to Keep Current with MORE LinkedIn Strategies?
If you love learning about LinkedIn, you will want to subscribe and get my newsletter articles sent to your LinkedIn message box.
Another tip: If you don't want to miss my posts, please click on the bell 🔔 at the top of my profile.
---
Thank you all - Be Sure to Stay Safe and Healthy.

Sandra
Let's be social! LinkedIn Profile | LinkedIn Page | Facebook Page | Instagram | Twitter
PS Check out my book here and consider subscribing to this newsletter below