It's Ready! Major LinkedIn Book Announcement!
I am so excited to announce that my book LinkedIn for Personal Branding: The Ultimate Guide is now fully updated for 2021.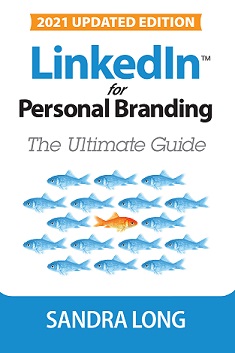 The timing is perfect.........Along with LOTS of real people examples and ideas on how to present yourself on LinkedIn, you'll find updated and new content throughout.
So.........What is new?
👉 There are six brand new chapters on Content and Thought leadership!
👉 All chapters have been refreshed with new tidbits and strategies
👉 Expanded advice about personal branding
👉 Expanded advice and perspectives for all kinds of work experiences
👉 New profile features and advice
👉 New Reader Resource website
---
Available Now! ⭐️
👉 For New Readers: Special 99 cent kindle promotion for just this week. But the updated print book is also very popular so you may prefer to get that version. Interested in purchasing or learning more? Click here
👉 For Existing Readers: Did you buy the original book already? I want to take care of you. Here's how >
* If you purchased the Kindle already, I have asked Amazon to give you the new ebook at no additional charge
* If you purchased the paperback book within the last 3 months, I have two ways for you to get the new content for free OR at a very low price.... Just contact me so I can get you a PDF of the new version. OR if you prefer, just use the special promotion now for the 99 cent Kindle version.
* Check out the new Reader Resource website here
👉 Everyone is invited to purchase the brand new book or Kindle. Learn more > Click here
---
Employee Teams or Student Groups 🏫
Are you interested in a bulk order for your team or students? Many of my clients order this book in bulk. Please contact me directly by replying to this email. I thank those clients who have already inquired about this!
---
You're Invited to Join Me on Dec. 7! 💻 ♥️
I am holding a free small group meet-up about LinkedIn Personal Branding on Dec.7 and you are invited. This is a combination of education and relaunch. YES, you can ask me questions too! I am ONLY inviting my email list and registration is limited so sign up today. We will have a great meeting and I do hope you will register. Once you register, please SAVE to your calendar too.
---
Book Reviews ⭐️⭐️⭐️⭐️⭐️
Amazon book reviews are the secret to any author's success. If you have already written one, thank you SO much. If you would like to write one, here is the LINK. Trust me, it means the WORLD to me.
---
Gift Time! 🎄
Books make a great holiday gift. Help someone you know get a jumpstart on 2021 by purchasing gift copies. Click here to learn more
Thank you all for your support!
There you have it! Please send me your thoughts or ideas or comments by replying directly to this email. Have a fantastic day
Warmly,
Sandra
Please subscribe - below - to receive a monthly update like this from me!