LinkedIn Sales Training Testimonials for PRC
Noel Turner, Vice President of Sales at Visitor Pass Solutions by Data Management, Inc.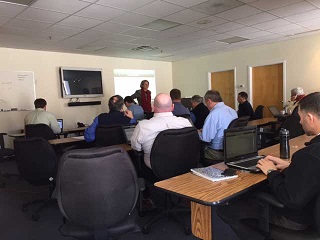 "Sandra did a great job training our sales force on how to increase sales with LinkedIn. We learned how to create a strategic profile; the rules of etiquette; how to network and use as a prospecting tool; the benefit of following groups and companies; and how to fit this tool into our sales process. Our team made significant progress in only one week!"
Maureen Gallo, Vice President, Beekley Medical
"We enlisted Sandra for our larger medical products division and were so impressed that we then brought her in to help grow our custom products division. We had a great learning experience and look forward to reporting back with some new business wins and most of all growth from the use of Linked-In as a tool for prospecting as well as networking. She had great tips and I especially love her emphasis on etiquette and looking for measurable results."
Steve Hertz, Director of Sales, SnailWorks
"I thought I understood how to use Linkedin effectively until I began working with Sandra. She open my eyes to using the tool in a much more effective way for the purpose of selling, not only from a prospecting viewpoint, but in deepening existing relationships. There is great value in continuing to learn how to leverage this powerful tool as it is constantly evolving, and sales processes need to evolve with it."
Andrew Jones, VP - Marketing at Data Management, Inc.
"Sandra Long recently provided LinkedIn training for a dozen or so of our sales and marketing people, and it went great! A few weeks before our onsite session, she gave us homework to do, with specific instructions on how to effectively set up our individual profiles, as well as our company page. We learned the importance of keeping our connections personal, of adding real value to our conversations, and of leveraging opportunities through LinkedIn's many groups and channels. Thank you, Sandra, for taking the mystery out of this powerful resource."
Mary Lang, Marketing Communications Manager, Beekley Medical
"Cultivating relationships with our customers, business partners, and industry thought leaders has always been key to our company's ongoing growth and success. Making the decision to empower our sales and marketing associates to leverage LinkedIn to continue this tradition of learning from the best was easy; finding a consultant who can engage, train, excite, and add real value to everyone from the newbies and "socialphobes" to the more experienced and social savvy seemed a bit more daunting. Sandra delivered all that and more. On day one, people without profiles had them and were confidently navigating through LinkedIn, making connections and joining industry groups. Our most experienced users all learned something new to enhance their networking.
I received glowing feedback from everyone who trained with Sandra and am happy to report that the excitement Sandra instilled during training over the possibilities of LinkedIn as a business tool has carried over to everyday practice. Our associates are connecting with clients, partners, and thought leaders, joining and learning from industry groups, sharing content of interest to our company, and establishing their own thought leadership. Sandra continues to be a valued resource and partner with our company and I highly recommend her services to any company considering professional LinkedIn training."
Candice LeBlanc, Director of Business Development, Prestige Lane Hospitality Brands
"I would highly recommend Sandra Long and Post Road Consulting for both individuals and companies that are looking to effectively utilize social media and online marketing. Over 3 days Sandra helped Prestige Lane Hospitality Brands create a professional online presence for both the company and our employees. Sandra demonstrated how to utilize LinkedIn to stay connected with key customers and prospects and how to increase the number of inbound leads and warm referrals. I found her prior sales and marketing experience coupled with her knowledge of LinkedIn invaluable."
Mary Beth Nelsen, President, Right Resource
"I wish I'd found Sandra the moment I decided to start my own business! I knew I needed to be on LinkedIn but I didn't realize how much more powerful a tool it could be until I attended one of Sandra's sessions. Sandra is a superlative salesperson and facilitator who helps you help yourself. I highly recommend her to anyone who wants to get the most of of LinkedIn."
David Wallace, Principal and Founder, The Sales Management Group
"I attended one of Sandra's LinkedIn classes focused on leveraging LinkedIn to brand yourself and your company. Sandra is wonderful! She is an expert in the business of social media. I highly recommend any business hire Sandra to get their team up to speed on LinkedIn, Twitter or other social media platforms. Sales reps, marketers, executives or anyone else who interacts both inside and outside the company will benefit from Sandra's presentations."
Mark Ehrenzeller, President of Frank I. Rounds Company
"Sandra did an excellent job walking our team step by step through the development of our individual and company "Linked In" pages, then guided us through the most effective and professional use of this social media vehicle. We learned a tremendous amount in only two workshop style visits.
Thank you Sandra!"
David Flayhan, CEO of Southpoint Group Real Estate
"My company, The Southpoint Group LLC, retained Sandra of Post Road Consulting, to train our team of 8 in Linked In Optimization for our business. Sandra is extremely knowledgeable, patient and thorough. I strongly recommend Post Road Consulting"
Note: Some of the testimonials are excerpts from LinkedIn recommendations