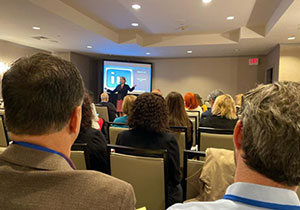 LinkedIn Expert USA – Sandra Long
Sandra Long elevates LinkedIn, personal branding, networking, social selling, and social recruiting to an entirely new level for her audiences, clients, and readers. Her approach resonates with individuals and organizations who believe in building real relationships and authentic brands.
Sandra Long - LinkedIn expert
The first LinkedIn expert to speak on the TEDx Stage:
Sandra's TEDx talk is entitled LinkedIn Community: A Super Power Hiding in Plain Sight and is now viewable on YouTube. She presented her 11-minute speech in Stamford, Connecticut, on May 11, 2019, at the Ferguson Library.
Sandra highlighted that LinkedIn networking and community building differentiate leaders today in their careers and business. She reveals the human side of LinkedIn through real people examples and stories throughout her talk.
Although LinkedIn is the #1 professional networking site and the place to get hired, find prospects, and be noticed, there is still widespread confusion and misunderstanding. Sandra inspires the audience to take proactive steps - real action- to improve relationships leading them to a much broader set of professional and often life-changing opportunities. She encourages us to shake off the misconceptions and participate in an active, helpful LinkedIn community.
The first author to integrate personal branding with LinkedIn strategies:
Sandra is the author of the Amazon #1 best-selling book called LinkedIn for Personal Branding: The Ultimate Guide. Sandra's book is the leading strategic work that effectively connects your personal brand to your LinkedIn presence, which is essential for today's professionals.
Sandra's book provides dozens of examples and other prompts to help the reader write their best possible personal essay. Her book also extends beyond the profile and offers valuable insights about content sharing and thought leadership.
An independent LinkedIn expert, trainer, speaker, and consultant
Sandra Long and her team at Post Road Consulting serve as independent LinkedIn experts, trainers, and consultants for:
Corporations including sales, HR, and executive teams
Colleges and universities
Associations and non-profit organizations
Conferences and event planners
Sandra and the Post Road Consulting team provide LinkedIn programs such as:
LinkedIn Workshops and training
LinkedIn presentations
Social Selling training
Brand Ambassador and employee referral programs
LinkedIn executive profiles and leadership workshops
Employer branding and digital candidate audits
Company consulting for sales, HR, or executives
University training for staff, students, or alumni
More reasons to hire LinkedIn expert Sandra Long
Sandra will customize her program for you and your team or audience. She provides unique interactive and hands-on experiences for her clients.
However, Sandra's philosophy is what primarily sets her programs apart. She helps her clients build real relationships rather than focusing on automation or tricks.
She helps her clients attract and engage with more qualified sales or career prospects in a way that is natural, friendly, and helpful.
Traveling for LinkedIn expert Sandra Long
Sandra lives between New York City and Boston. She uses auto or train transportation for most engagements in the Northeast corridor. She usually flies from New York's LaGuardia airport or from JFK for international flights. She and her team serve clients from around the world.
Contact LinkedIn expert Sandra Long