Stamford Office for Post Road Consulting LLC

The PRC office is in downtown Stamford at Landmark Square. Our office is within the Connecticut Business Center on the fourth floor of Building 6. The phone number for CT Bus Center is 203-359-5600.
Address:
Connecticut Business Center
6 Landmark Square - Suite 400
Stamford, CT
Parking Options: Three Options: Valet, Self Park in Garage, or Walk from Mall
1. Valet Parking for Landmark Square: Enter From Broad Street and go up inclining entrance next to BowTie Theater. Large LANDMARK SIGN. (Use GPS address of 5 Landmark Square if you are coming to valet)
2. Self Parking in underground Mall Parking. Available only after 9 AM. Three Choices to enter garage: Make sure you use this Gray Rock Road & Main Street Entrance near the Old Main Street Sign:
A. Coming from Tresser Blvd, select the second Gray Rock parking entrance on the left) OR
B. Coming from Broad Street> turn onto Gray Rock and enter the garage at the first chance across from Old Main Street. OR
C. Coming from Main Street > Go straight ahead into the garage near sign for OLD MAIN STREET at the garage entrance.
SEE MAP WITH RED ARROW FOR BEST ENTRANCE. Park near large glass doors that you see straight ahead when you enter the garage here > This is the Landmark entrance. Parking meters and machines are in the garage. You need to pay in advance for the space, but it is very affordable.
See map below for recommended parking spots; then follow these walking directions: Walk straight in thru glass doors and bear left to building #6. (Directly across from the entrance to building #4) Look for buzzer and ask for Connecticut Business Centers. Take Elevator to 4th floor. Proceed to suite 400.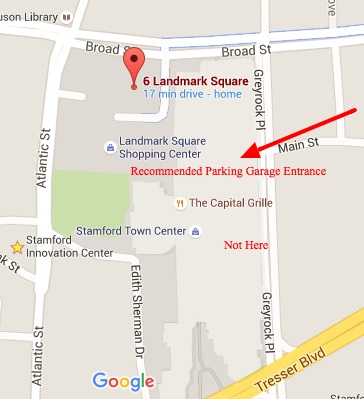 3. From Inside the Mall, here are the best two options to get to Landmark Square:
A. Best: Go to the 4th level and find the indoor pathway between Macy's and The Loft > toward the theater. Go down the pathway to the end and turn right. When you see a big blue door on the Right side > turn down the hallway to the left, going past Landmark Cafe. You have entered Landmark Sq Building 4. Continue down the hallway toward Concierge and turn LEFT towards Building 6. Go past elevators and walkway and enter into Building 6. Go to the 4th floor to get to Connecticut Business Center offices where we are located.
B. Next Best: Go to the third level. Go past Gelato and Hakky Stores. Go through double doors into garage. Go straight three rows and bear right to get to the glass door entrance into Landmark Square. Go thru glass doors and bear left to building #6 which is across from building 4. Look for buzzer and ask for Connecticut Business Centers. Proceed to Suite 400 on the fourth floor.