Veterans Attend Free Intensive Workshop to Enhance Job Search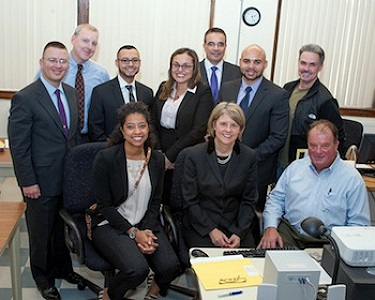 On November 7, 2014 ten veterans attended a LinkedIn Boot Camp at the Norwalk Senior Center computer lab and received a free LinkedIn profile business portrait in Norwalk CT. Due to its popularity, the workshop registration was filled within a few weeks of announcing the class. Business attire for the female and male veterans in attendance was provided at no charge by the non-profit Save-A-Suit organization as the final step to being prepared for job interviews.
This intensive five hour course was taught by LinkedIn expert, Sandra Long owner of Post Road Consulting LLC. Cynthia McIntyre, owner of Cynthia McIntyre Photography provided the free Linked In profile business portraits.
Money received through donations and sponsorships totaled over $1000. 100% of the sponsors' donations went to the recipient organizations; the Norwalk Senior Center and the Save-A-Suit non-profit organization that provides former military and college graduates with professional business attire and the confidence needed to succeed.
"This workshop was amazing and the information I received was extremely valuable," Walter Palma, a veteran attending the event was heard to say following the event. "This helped me to get the foundation started and I am now motivated to expand my connection base to find a job," he continued.
Euridania Tabor, a female veteran attendee said, "I did not have a LinkedIn account prior to this class. I used many different job search engines and applied to over 50 places and never heard back. This class has made me more confident and comfortable in searching and finding a full time job."
Charles Pickett, a former Army Engineer and current graduate student at Southern Connecticut State University in New Haven said, "These professionals and their generous supporters helped a room full of veterans, including some student-veterans transitioning from active duty, greatly improve their professional networking skills as they seek competitive civilian jobs and new careers."
Program Announcement on Daily Voice