LinkedIn Beyond the Profile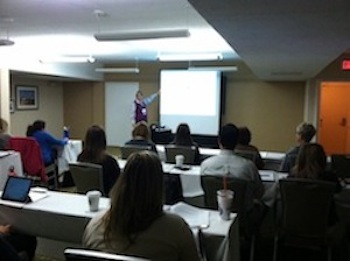 New England Association of Cooperative Education and Field Experience Conference. Falmouth - Cape Cod - Massachusetts. November 4, 2013 
Participants and Members: Terrific group of New England College Career Center Professionals.
Statements from Audience Evaluation Cards:
"Great Info- I learned so much new material!"
"One of the best presentations"
"Great!!"
"Sandra did a good job of gauging the audience's knowledge to tailor the presentation."
"So helpful! Thank you Sandra!"
"Great presentation. Very informative. Sandra has a lot to offer NEACEFE members. Would love to have more workshops from her."
Statements made on LinkedIn
"Fantastic presentation!!"- from audience member who commented on LinkedIn post- November 5, 2013
"Sandra Long...does a great job engaging her audience.... she presented about networking and social media in an interesting and compelling way that had us in the audience wishing for more time. With her background as a sales executive, she has a great perspective on networking, and as an early adopter of LinkedIn....she knows how to blend her networking philosophy with social media. I hope to hear Sandra speak at a future conference." - from Board Member in a LinkedIn profile recommendation - posted on Nov. 10, 2013