Sandra's Sales Warm Up Strategy by Sandra Long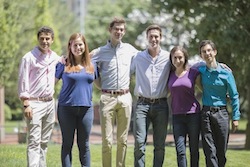 People buy from people they know, like and trust. The more "sales touches" or "networking touches" the better to build rapor and confidence.
Here's a quick but effective social selling checklist using LinkedIn.
1. Meet a prospect at event or from an introduction.
2. Send a LinkedIn request with personal message immediately after.
3. After connection, thank them. Say "Thanks for connecting. I am looking forward to getting together again soon."
4. Wait 2 days. Email or send them a LinkedIn InMail about something of interest to them. ( article, news, or introduction- it should not be product or sales related)
5. Continue posting your great comments. Your prospect is likely to see your posts.
6. Email or InMail the prospect and mention that you will be calling them.
7. Call them as promised. They are warmed up!
Happy Selling!
Updated June 25, 2015