LinkedIn Training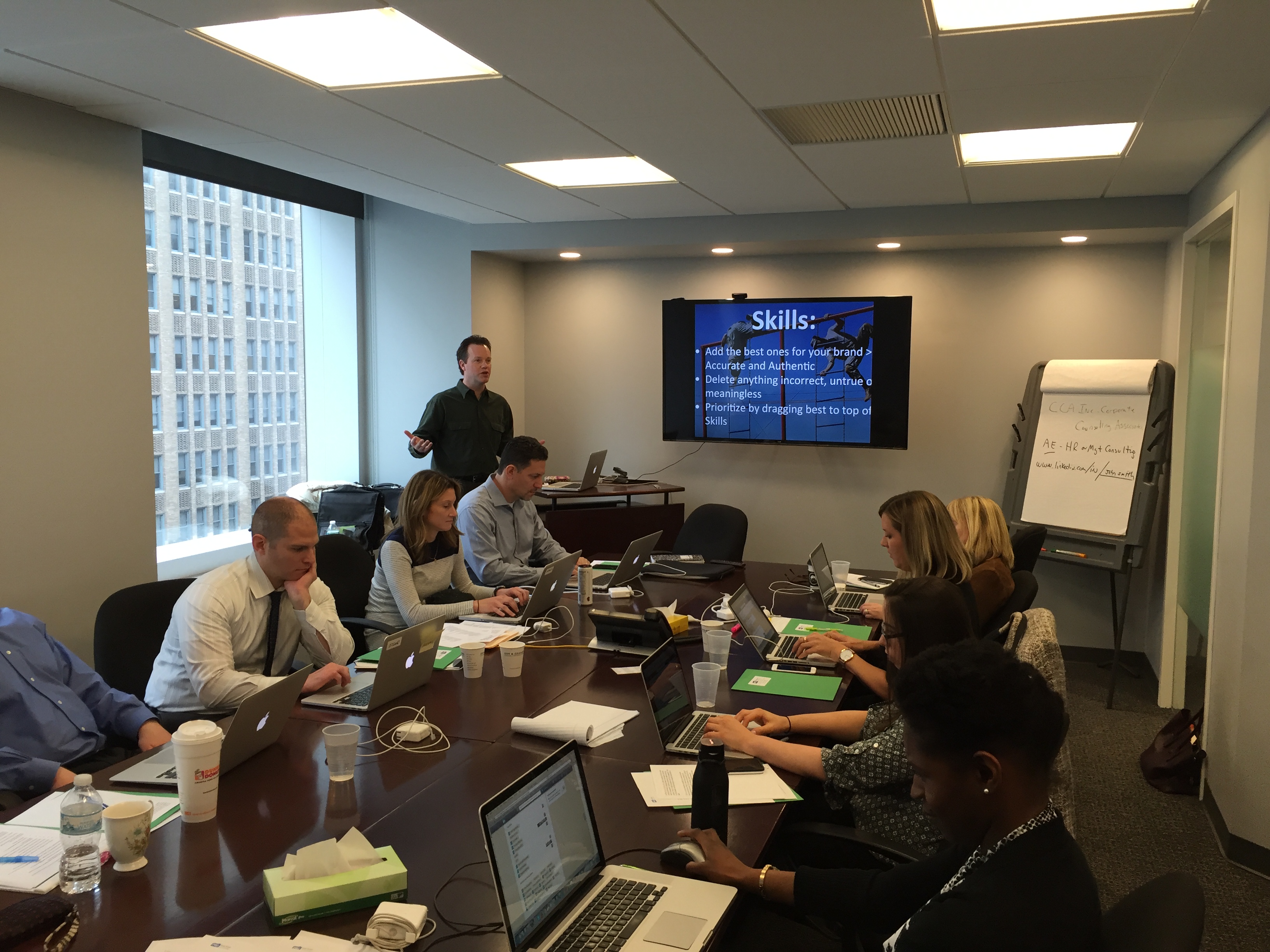 LinkedIn training is the cornerstone of the services offered at Post Road Consulting. Our workshops are intensive "hands-on" programs. We are very proud of the reviews and testimonials from clients. We also coach, consult and speak about LinkedIn for the purpose of personal branding, company branding, networking, career advancement, recruiting and sales.
Corporate LinkedIn Training:
We offer "hands on" LinkedIn Personal Branding and profile programs for all departments. Post Road Consulting also specializes in Social Selling and Social Recruiting for corporate Sales and H.R. / Talent Acquisition teams. Consider hiring us to help your department warm up their prospects, advance a pipeline, and accelerate the sales or recruiting process. We will travel to your location no matter where you are OR design an online program. Two way live interactive training programs are now available for your remote team. Learn more about what we do with corporations.
LinkedIn Training for Small Business, Attorneys, and Individual Professionals:
We work with many small businesses, attorneys, consultants, job seekers, and individual professionals. We help them with personal branding, company branding, and staff training. Learn more about our services for Small Business; Attorney; and Individual Professionals.
LinkedIn Training for Colleges and Universities:
The Post Road Consulting team loves to work with colleges and universities too. Our training and coaching solutions support students, alumni, and university staff. Learn more.
LinkedIn - Open Community Classes:
Small Group "hands-on" classes are offered through Continuing and Adult Education programs in various towns in Fairfield County Connecticut. Classes are available in Greenwich, Stamford, and Wilton. These programs are available once in the fall and spring only. See schedule
Webinar and "Go TO Meeting" Training: available by appointment for "one on one" or small groups.
Private Executive Coaching:
"One on one" coaching will be scheduled with you at your convenience. We can meet you in Westport, Stamford, or online via "Go To Meeting". We may also be able to come to your office.
Prepare for Your Custom Workshop
Preparation is key for on-site company LinkedIn training programs. Here's how to prepare for our workshop at your site.
Locations
We provide LinkedIn training across the USA, including New York, Connecticut, Massachusetts, Rhode Island and New Jersey. For more information, please Contact Us.