LinkedIn Training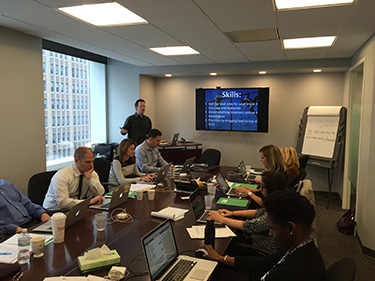 Post Road Consulting is the premier provider of independent LinkedIn training and consulting for companies and organizations. PRC offers innovative workshops and events for employees, students, or clients. The majority of our workshops are intensive "hands-on" programs at customer locations. We also coach, consult and speak about LinkedIn for personal branding, company branding, networking, recruiting and sales. We are very proud of the reviews and testimonials from clients.
Corporate LinkedIn Training:
We offer live "hands-on" and virtual LinkedIn Personal Branding and profile programs for all departments. Post Road Consulting specializes in Brand Ambassador programs for all departments; and Social Selling and Social Recruiting for corporate Sales and H.R & Talent Acquisition teams. Consider hiring us to help your department warm up their prospects, advance a pipeline, and accelerate the sales or recruiting process. We will either travel to your location OR deliver an online program. Two-way live interactive training programs are now available for your remote teams. Learn more.
LinkedIn Training for Small Business, Attorneys, and Individual Professionals:
We work with many small businesses, attorneys, consultants, job seekers, individual senior executives, and individual professionals. We help them with personal branding, company branding, and staff training. PRC also offers Social Selling and Social Recruiting for small businesses. Learn more about our services for Small Business; Attorney; and Individual Professionals.
LinkedIn Training for Colleges and Universities:
The world of LinkedIn is continually changing. The college environment has needs on several levels to improve LinkedIn fluency and literacy. Most colleges and universities need help leveraging LinkedIn to better assist students and alumni from a career perspective. This includes personal branding, profiles, alumni networking, and job search on LinkedIn. Many universities need help with marketing, branding and alumni outreach. Our PRC training and coaching solutions support students, alumni, and university staff. Learn more about our university work.
LinkedIn - Events & Classes:
See the Post Road Consulting schedule
Private Executive Coaching:
PRC provides private executive social media and LinkedIn coaching for senior leaders. Please contact us.
Online Training > Coming soon!
Interested in upcoming online courses? We are currently designing online courses and would love to notify you. You may be one of our special "preview" students so let us keep in touch with you !