LinkedIn Expert Trainer & Speaker in Bristol, CT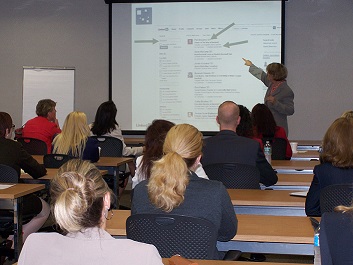 Sandra Long teaching LinkedIn in Bristol CT
LinkedIn Speaker
Post Road Consulting LLC Owner Sandra Long is a corporate and university speaker who specializes in LinkedIn for business and career. Sandra speaks at conferences, companies, association meetings and universities. Her presentations include:
LinkedIn and Personal Branding
Real Relationships and The LinkedIn Connection
Be a Social Leader: What you Need to Know Now
LinkedIn Training
Post Road Consulting LLC offers LinkedIn training and consulting for corporations, organizations, universities, and associations. Corporate LinkedIn Training is available for sales, recruiting, career development and personal branding purposes. Post Road Consulting's typical training clients are:
Sales teams who are trying to enhance their sales results using LinkedIn. PRC helps the team with personal and company branding, profiles, company pages, network building, and sales strategies. We also help them to upgrade and fully leverage the LinkedIn premium services, such as LinkedIn Sales Navigator, if beneficial and suitable for their sales process.
HR and Recruiting teams that are using a combination of LinkedIn Recruiter licenses, LinkedIn Company pages, and Job postings for talent acquisition. Our HR customers are interested in branding, building a talent pipeline by networking and various LinkedIn search strategies.
Marketing teams who are interested in instituting Social Selling or Employee Advocacy programs. Often they have compelling company content to share on the LinkedIn platform. We help the marketing team to integrate their efforts with Sales and effectively introduce Social Selling.
Teams of all functions (and from various industries) that are introduced to LinkedIn for personal and company branding, network building and thought leadership. Post Road Consulting is experienced working with engineering, legal, accounting, finance, customer service, operations and all major corporate functions.
Contact Us
For more information on LinkedIn resources in Bristol, CT click here or contact Sandra Long via email at Sandra@postroadconsulting.com
Customer Reviews from Bristol
Candice L. from Bristol, Ct,
May 27th, 2015
I would highly recommend Sandra Long and Post Road Consulting for both individuals and companies that are looking to effectively utilize social media and online marketing. Over 3 days Sandra helped Prestige Lane Hospitality Brands create a professional online presence for both the company and our employees. Sandra demonstrated how to utilize LinkedIn to stay connected with key customers and prospects and how to increase the number of inbound leads and warm referrals. I found her prior sales and marketing experience coupled with her knowledge of LinkedIn invaluable
Mary L. from Bristol , Ct,
Oct 31st, 2014
Cultivating relationships with our customers, business partners, and industry thought leaders has always been key to our company's ongoing growth and success. Making the decision to empower our sales and marketing associates to leverage LinkedIn to continue this tradition of learning from the best was easy; finding a consultant who can engage, train, excite, and add real value to everyone from the newbies and "socialphobes" to the more experienced and social savvy seemed a bit more daunting. Sandra delivered all that and more. On day one, people without profiles had them and were confidently navigating through LinkedIn, making connections and joining industry groups. Our most experienced users all learned something new to enhance their networking. I received glowing feedback from everyone who trained with Sandra and am happy to report that the excitement Sandra instilled during training over the possibilities of LinkedIn as a business tool has carried over to everyday practice. Our associates are connecting with clients, partners, and thought leaders, joining and learning from industry groups, sharing content of interest to our company, and establishing their own thought leadership. Sandra continues to be a valued resource and partner with our company and I highly recommend her services to any company considering professional LinkedIn training.
Andy J. from Bristol , Ct,
Mar 31st, 2014
Sandra Long recently provided LinkedIn training for a dozen or so of our sales and marketing people, and it went great! A few weeks before our onsite session, she gave us homework to do, with specific instructions on how to effectively set up our individual profiles, as well as our company page. We learned the importance of keeping our connections personal, of adding real value to our conversations, and of leveraging opportunities through LinkedIn's many groups and channels. Thank you, Sandra, for taking the mystery out of this powerful resource