LinkedIn Expert Trainer & Speaker in Boston, MA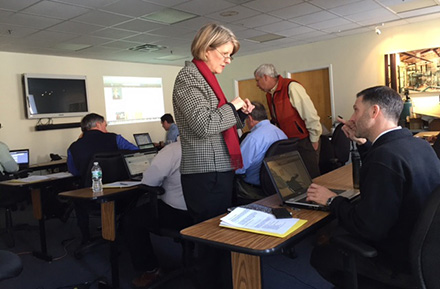 Sandra Long of Post Road Consulting teaching LinkedIn in Randolph Massachusetts
LinkedIn Speaker
Post Road Consulting LLC Owner Sandra Long is a corporate and university speaker who specializes in LinkedIn for business and career. Sandra speaks at conferences, companies, association meetings and universities. Her presentations include:
LinkedIn and Personal Branding
Real Relationships and The LinkedIn Connection
Be a Social Leader: What you Need to Know Now
LinkedIn Training
Post Road Consulting LLC offers LinkedIn training and consulting for corporations, organizations, universities, and associations. Corporate LinkedIn Training is available for sales, recruiting, career development and personal branding purposes. Post Road Consulting's typical training clients are:
Sales teams who are trying to enhance their sales results using LinkedIn. PRC helps the team with personal and company branding, profiles, company pages, network building, and sales strategies. We also help them to upgrade and fully leverage the LinkedIn premium services, such as LinkedIn Sales Navigator, if beneficial and suitable for their sales process.
HR and Recruiting teams that are using a combination of LinkedIn Recruiter licenses, LinkedIn Company pages, and Job postings for talent acquisition. Our HR customers are interested in branding, building a talent pipeline by networking and various LinkedIn search strategies.
Marketing teams who are interested in instituting Social Selling or Employee Advocacy programs. Often they have compelling company content to share on the LinkedIn platform. We help the marketing team to integrate their efforts with Sales and effectively introduce Social Selling.
Teams of all functions (and from various industries) that are introduced to LinkedIn for personal and company branding, network building and thought leadership. Post Road Consulting is experienced working with engineering, legal, accounting, finance, customer service, operations and all major corporate functions.
Contact Us
For more information on LinkedIn resources in Boston, MA click here or contact Sandra Long via email at Sandra@postroadconsulting.com
Customer Reviews from Boston
Mark E. from Boston, Ma,
Mar 26th, 2015
Sandra did an excellent job walking our team step by step through the development of our individual and company "Linked In" pages, then guided us through the most effective and professional use of this social media vehicle. We learned a tremendous amount in only two workshop style visits. Thank you Sandra!
Tom M. from Boston, Ma,
Jul 26th, 2014
Sandra was extremely effective in coaching several college students who are associated with my company. Despite an April start, all of the students landed summer internships. I give Sandra my highest recommendation for career and social media coaching. She is "head and shoulders" above her peers.
Rich G. from Boston, Ma,
Nov 10th, 2013
Sandra Long is an effective presenter who does a great job engaging her audience. At a recent conference on Cape Cod, she presented about networking and social media in an interesting and compelling way that had us in the audience wishing for more time. With her background as a sales executive, she has a great perspective on networking, and as an early adopter of LinkedIn (one of the first 4 to 5 million people to start using it), she knows how to blend her networking philosophy with social media. I hope to hear Sandra speak at a future conference - See more at: http://www.postroadconsulting.com/about-us/reviews.html?p=9#sthash.vm7nh2ac.dpuf